By Peter Heffelfinger
posted March 29, 2021
Onions
With the calendar arrival of spring, the official opening of the garden season has begun. Of course there are early cool-weather plants that benefit from getting into the ground before March 21st, especially peas, lettuce, and radishes. But the really important ones to set out early are onions, whose bulb formation is triggered early by the extended day-length of late spring and early summer. It is vital to get onion sets, young plants, or even seed in as early as possible in order for the initial onion plant to size up adequately before the bulb starts to form below ground. We live in the very northern part of the continent, close to Canada, essentially halfway to the pole. Days get longer quickly up here, even now at the end of March. Once April and May roll in, the day-length really starts to stretch out.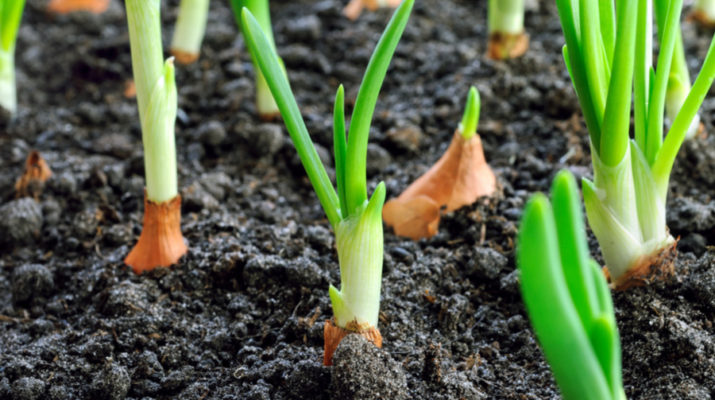 Image courtesy of This is My Garden
Late-planted onions tend to form thick stalks and thin bulbs, with premature seed-heads appearing on the central, slightly stiffer stalk.
As a rule, any seed-buds should be snipped off as soon as they appear in order to keep the plant's energy going to the bulb. It's essentially a race against the expanding hours of light, especially with the ever-earlier sunrises. Photosynthesis starts at the crack of dawn, which means the plants will have been active hours before the gardener usually arrives in the morning. So, get your onions in early, to beat the sun-clock.
My yellow and red storage onion sets were planted in their raised bed several weeks ago, while the Walla Walla plants were set out a few days ago. The Wallas, large and sweet, are for immediate summertime eating, as they go soft quickly when stored. There is still a seedling flat of large-size storage onions to transplant, though it may already be a bit late. They may not get as big as advertised, but hopefully the bulbs will be worth storing.
In the spring garden, however, the leeks planted last year in mid-summer are just now sizing up for harvest, just as the last of any stored onions in the pantry have been used up. Leeks are dependable, hardy, and stay fresh in the ground all winter. The leek cycle begins again soon with the initial set of transplants put out in middle or late spring for a late summer or early fall harvest. Be sure to water leeks regularly during the summer drought to keep them from bolting due to stress. But, like garlic scapes, the firm leek seed stalks can be sliced thin for soups or stir-fries. Never let a good stalk go to waste.
Spring Greens Pesto
(Recipe adapted from Megan Barone, of Mixtape Pasta)
In the garden the over-wintered bitter greens, including the arugula, Mizuna mustard, broccoli Raab, and the hardy bok toy, are madly forming buds. As the plants go to seed the leaves develop a much sharper bite, which I, as a medium-level chili aficionado, appreciate for an early foretaste of the hot peppers to come in summer. To use at least a small portion of the burgeoning crop of hardy greens, make a tangy pesto. No need to wait for warm weather basil.
Combine until smooth in a food processor: two handfuls of mixed bitter greens, 4-6 (or more) garlic cloves, a few walnuts, salt, black pepper, cumin, and the juice of a lemon. For a true Mediterranean kick, include half a tin of anchovies, or substitute a few dashes of Thai fish sauce.
(A non-fishy alternative is soy sauce.) Scrape down the sides. With machine running slowly add olive oil, plus freshly ground Parmesan to reduce the bite and give it that creamy pesto mouth feel. But l also like it straight, without Parmesan, on a cracker or a toasted baguette slice. Top with a few capers, a fresh leaf of hardy Greek oregano from the herb garden, and maybe some goat cheese or feta. A leafy spring tonic with a Hellenic snap to it.
Note: Stored in a jar with a surface layer of olive oil, pesto will keep for several weeks in the fridge, or frozen for up to 2 months.